by
|
Last Updated:
Here are some of the insane things that people are doing with virtual reality:
1. Virtual Reality Sex Suit
In the modern day, the talk of sex toys and the use is no longer viewed as weird or out of the ordinary amongst most people. A Japanese firm, Tenga, came up with a VR sex suit that creates a reality of an actual sexual encounter. The haptic feedback suit is paired with a Samsung Gear VR and comes with sensors and straps that release electrical impulses to the user's body, which creates an illusion of an actual body rubbing on the user.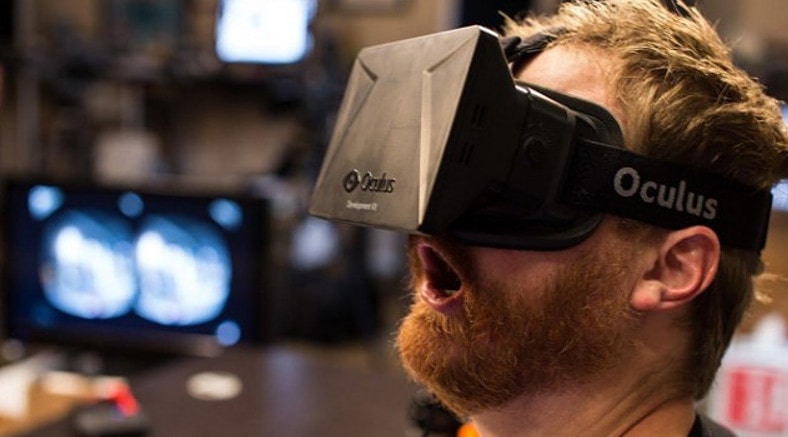 Image credit: Forbes
The user has his hands on the fake breasts included in the suit, and a robotic appendage is connected to the crotch area, where is moves up and down stimulating the user. The suit also includes images from 'sexy beach' simulation, which is Tenga's award winning 3D masturbation sculptures that are projected as one is using the suit. The VR sex suit is one of the most insane things that VR has been used for, although it can be said that it was expected.
2. Marathon Virtual Reality Use 25 Hours Straight
In as much as VR is fun to use and comforting, there is just so long you can use it for till you get bored or fatigued. Although people have played video games for a long time, no one has used VR for as long as Derek Westerman. Derek is youtube collective from super deluxe, got his name in the Guinness book of records for being the first man to hold the longest virtual reality session, which lasted for twenty-five hours. During the twenty-five hours, Derek was fed Pizza, given water and peed in a bucket. I am sure he would have been thinking where can I get a discounted Oculus Quest as it is the most comfortable headset on the market but somewhat pricey.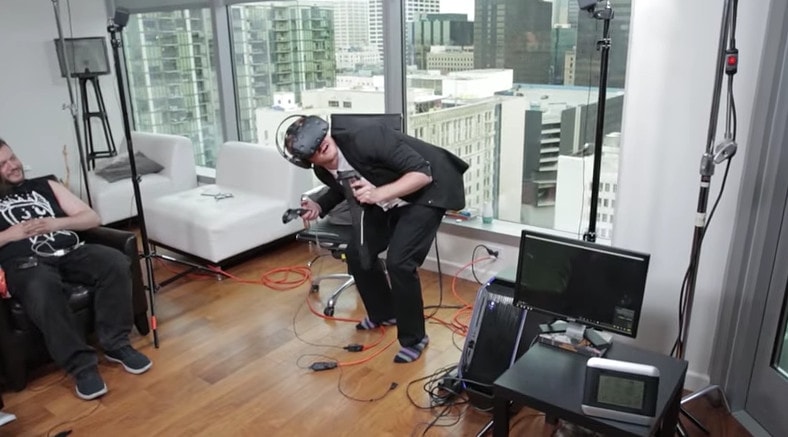 He was not allowed to change to another app or remove the helmet no matter how bad it got during the session. He went through all phases of emotion during the period, where he even got nauseous and puked in the pee-bucket at some point. When you think about the Guinness book of records, we have seen a lot of crazy things being done to get in it, but this stands as the most insane about Virtual Reality.
3. Virtual Reality Bedtime Story Reader
In recent times, parents have become very caught in work, business travels, late night meetings and other engagements involving work that keeps them away from their kids. It is every parent wish to read a story to their child every night before they go to sleep to watch them being carried away into slumber land by the story and to tuck them in after. Unfortunately, with the modern busy day today one may find themselves at home only a few times a week, or in some cases never. Samsung has invented a way for parents to still read to their children before they sleep when they are far away from them.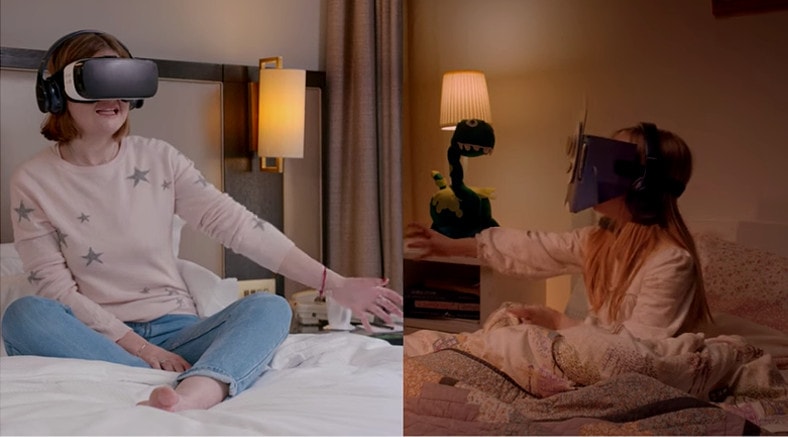 Image credit: Bedtime story app
The Samsung bedtime VR stories incorporate a bedtime story app, where the parent wears a GearVR and the child has a Google Cardboard headset that can include a character mask of their choice. The app allows the parent and child not only to read the story together and create an illusion of them being side by side but also allows the child to live the story in the present. I think for most parents this is a very particular app to have, but for others, it may just be an excuse not to make it home for that bedtime story. Whether this app will be used to improve parenting or neglect it, at least the child will always feel the parent's presence no matter where they are on a daily.
4. Roller Coaster Virtual Reality Experience
Roller coaster rides are one of the reasons most people go to fairs and parks, to enjoy the adrenaline rush that comes with moving up and down, upside down, turns and tosses. Roller coasters are already impressive on their own; imagine when a twist is added to them, a virtual reality. Six Flags over Texas have revolutionalized the classic 'shockwave' with the help of Samsung; they have created a virtual reality that takes the roller coaster to another level.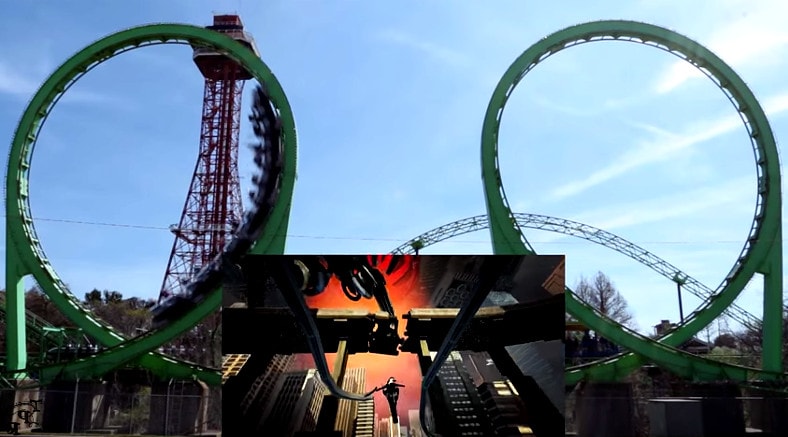 Image credit: Six Flags over Texas
The user, in reality, is on the roller coaster, but virtually they are taken to a fighter's jet cockpit, where they protect the country from out space invasion. The user has a three hundred and sixty-degree view of the city under attack by the aliens, and they can tap on the VR headsets to fire their jet guns at the target. It is one thing to be riding on your favorite roller coaster ride; it Is another to combine the thrill of the ride with that of fighting aliens during the topsy-turvy ride. Another important and interesting side note to bear in mind is that the first roller coaster to use VR technology was in North America.
5. Baseball Training & Other Sports
In a competition getting to understand your opponent's tactics is very crucial in you defeating them, that is why the Tampa Bay Rays have started using the baseball simulator, iCube. ICube allows the players to experience how it will be of accuracy, when the actual pitcher throws the ball, as he or she is on the screen.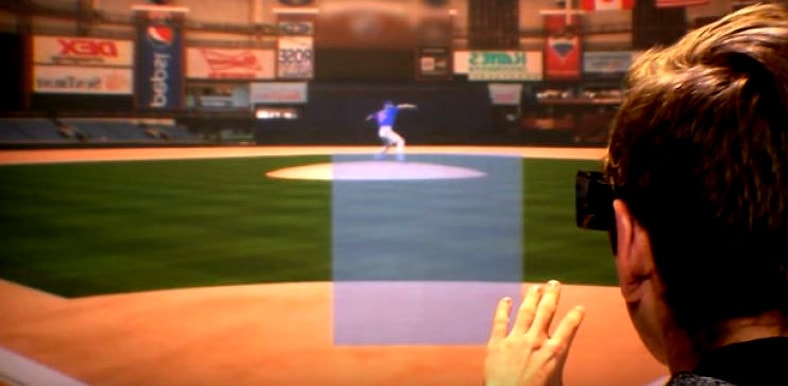 Image credit: Tampabay.com
The players wear 3D motion tracking glasses and enter a small room that looks just like a stadium, to ensure it looks exactly as the real game would do. ICube helps the plays get to know the player more before getting to the game with them.
6. Fine Dinning Experience
It would be pretty amazing for one to be in a position to have dinner wherever you can imagine of dining, regardless of how bizarre it may seem? Sony is coming up with a way in which one can use VR to dine wherever they want, even though is in the clouds surrounded by birds, with a flick of a switch you can make your imagination a reality.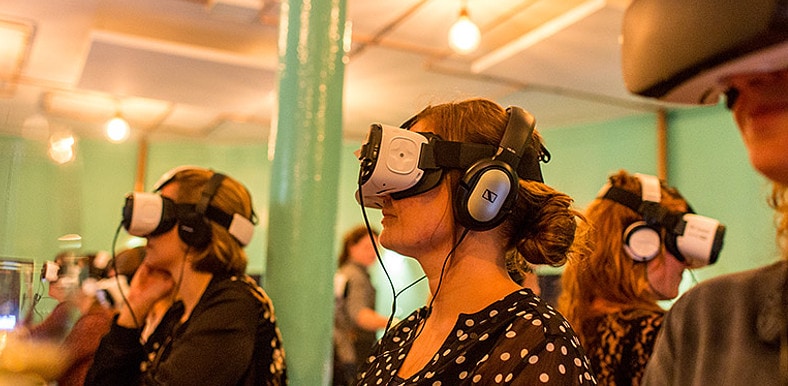 Forget the same old boring date nights, where you go to the same restaurant you went for your first date, imagine bigger, better, different and beyond your wildest dreams. You could call this restaurant experience one of the many perks of virtual reality technology.
7. Virtual College Tour
College application can get very tedious especially with you add on the college tours that you are forced to go to by your parents. VR introduces an easy way to go about the college tours, where you can take a tour through your favorite or parent's choice college in the comfort of your room.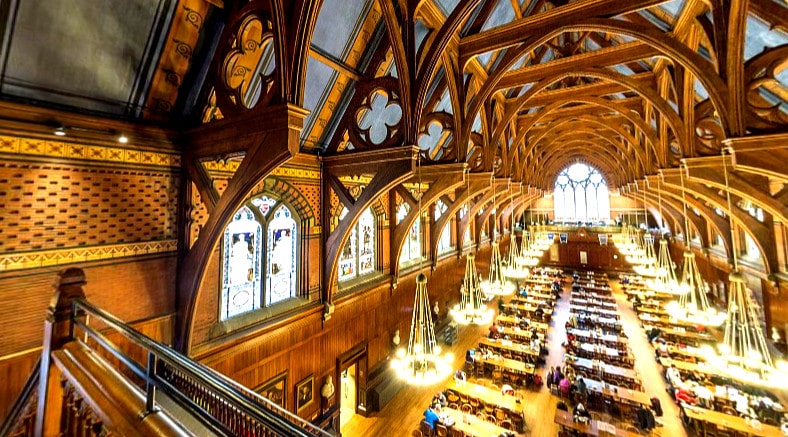 Image credit: Harvard Virtual Tour
With You visit, you can go to any building of choice; the library, dorm rooms, cafeteria and other parts of the school you ought to see, without moving an inch from your bedroom or house for that matter.
Conclusion
In conclusion, there is much to be discovered on the possibilities of VR; they may be bad or good. The bottom line is virtually reality technology to some extent has improved people's livelihood, made life easier and enhanced health care services for people.