by
|
Last Updated:
With absolutely no regards to customers, HTC has been shipping out HTC Vive headsets at random, sometimes without notifications and in the wrong order according to reports from forums and social media sites such as Reddit.
"You'd imagine that shipping out HTC Vive headsets would be as simple as following the orders as they were received… meaning that the first customer to order would receive theirs first." claims Eric, who ordered his HTC Vive headset 1 hour after the pre-launch on February 29th 2016.
Yet, customers that ordered throughout march, including as late as March 29th, nearly an entire month later, have already received their order.
"It really seems as if they are just shipping things at random. I even paid for my order in full when I ordered it" Eric says.
The matters have escalated so much that HTC put out an official statement on their blog addressing the situation. The statement doesn't address any of the concerns that the customers are having and certainly doesn't address the order in which orders are being fulfilled. Instead, the statement acknowledges that there are shipping issues and proceeds to saying that the shipments will ship… "when they ship."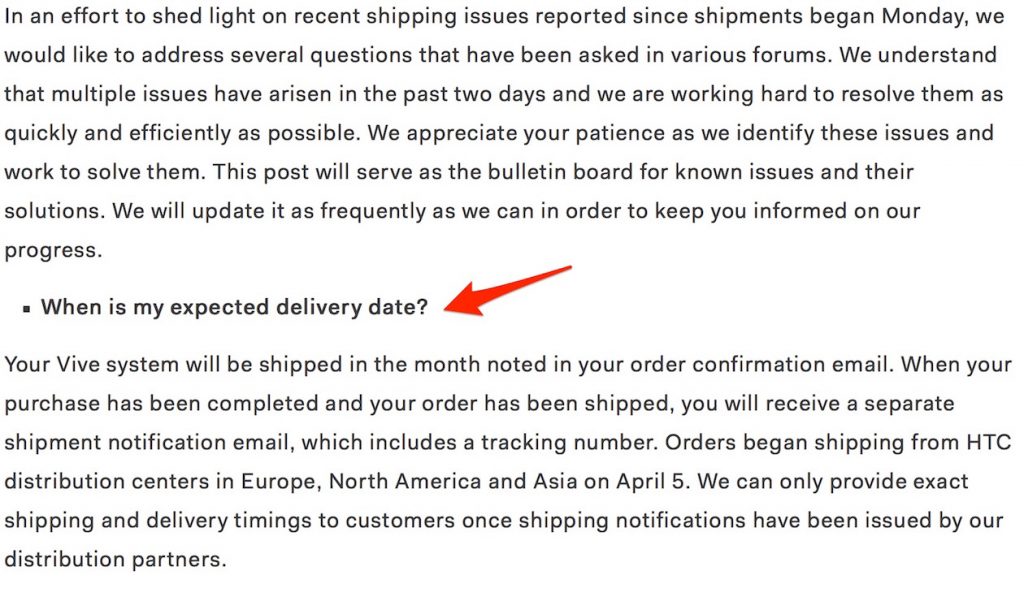 The official statement from the HTC blog provides little-to-no useful information.
Random, Out-Of-Order Shipping Frustrates Customers
The more you look into the situation, the weirder it gets. As one user claims, "Current guess is that they are using a hat to pick who gets them. I ordered a whole month before someone in my own state got his."
So how IS the shipping working at HTC?
At a basic level, you'd imagine that shipping would happen at a first server, first come basis. We could even understand some regions receiving shipments before others due to proximity. However, in spite of all this, it really seems as if you have an equal chance of receiving your shipment if you order today versus pre-ordering 2 months ago.
Countless complaints
Everything from orders mysteriously vanishing, to orders appearing on doorsteps without any notifications are happening.
The entire shipping operation is a disaster. In spite of sending emails to HTC to receive more information about shipments, we have yet to hear anything back.

HTC Customer Service Woes
In addition to shipments being all over the place. Customers are complaining about the malfunctioning of support as well. It seems as if they were not prepared to handle such a demand for the HTC Vive.


We experienced a similar situation when trying to contact HTC via their support form. (The first time we submitted a request, the form erased all our text because we hadn't selected the proper drop-down box.)
Another user complains about a DOA unit received. Fortunately this one was resolved after a heated back and forth.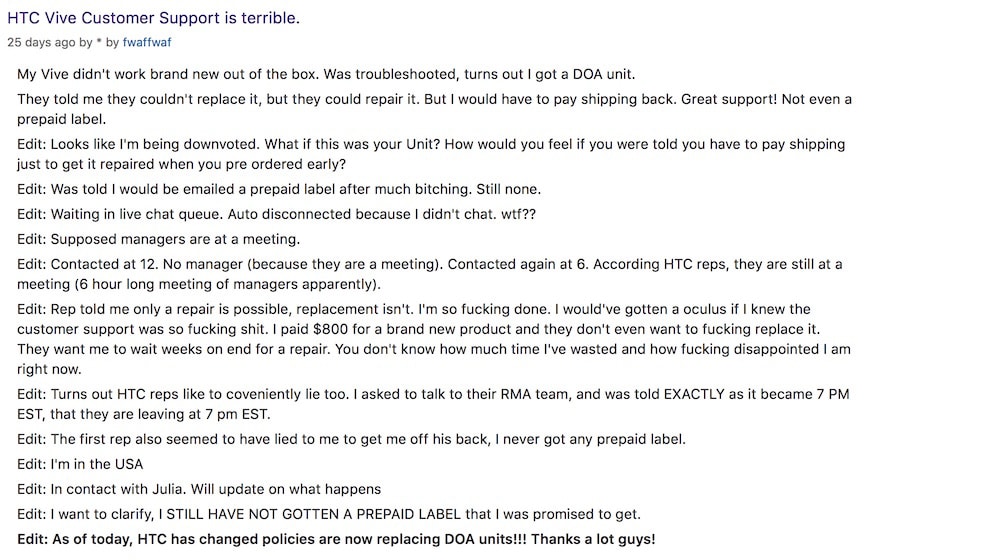 Update #1: Here are more people experiencing the same thing.
Have you received your HTC Vive yet? Do you have a story about the shipping or ordering process? Let us know in the comments!